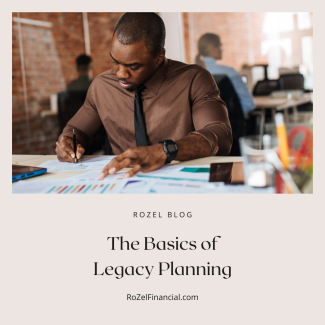 The Basics of Legacy Planning
This is part one of a continuing blog series on Legacy Planning. Here in The Basics, we will discuss financial Legacy Planning fundamentals and why this knowledge is so important.
I want to first address the WHY. Ideally, legacy planning can protect your health, assets, and concurrently protect your family. I have personally seen many family bonds fall apart or destroyed by a lack of planning. Health care and money evoke every emotion in our being. Right, wrong, or seemingly indifferent – difficult things happen when health choices and/or money are involved. In its crudest form Legacy Planning is what should happen should you become incapacitated and when you die. Though the basics of WHAT is needed can be intimidating, we can break it down into manageable pieces. Let's talk about what those pieces are and how we can create plans to help guide the pieces into the appropriate place.
A Power of Attorney (POA) is put in place for when you are alive and unwilling or unable (an attorney will be very specific here in terms of what that means) to take care of your financial affairs. In order for the individual (or agent) you direct as (POA) to act on your behalf to pay bills, get money out of your account, pay for your health care needs, a POA is required. This is not just for long-term illness, but short-term hospitalizations that may warrant such action, or unexpected illnesses (not that many are expected!). POA's are also important to have in place for military, college students, or anyone that may be outside of the states for periods at a time without access to their accounts using a durable POA at effective at creation. RoZel Financial has worked with many POA's and accepted direction on account transactions (including distributions) from a POA on a financial account when the account owner specified the need in their legal document. More specifically, if you as our client are incapacitated and you have a POA named, we would be able to take direction from your POA on your behalf. Without the POA we cannot take that direction.
Beneficiaries on your accounts pay to who you name. If there are no beneficiaries directly on your assets, a Will is required to ensure your desires are fulfilled upon your death. An executor named in the Will executes the activity in accordance with the document. My experience leads me to believe this person should be relatively financially savvy or at least detail-oriented. The Will dictates where assets should go and typically incorporate hard assets such as jewelry, pets etc. There are many levels to a Will depending on the complexity – but sticking with the basics and back to the WHY – can allow for a much easier financial transition for your family or charitable wishes. Should you have children, the Will is critical and will appoint a guardian for your child(ren) and name a Trustee for assets. You cannot get more important than that in my heart and mind!
Health Care Proxy or Medical Directive gives legal direction for your health care wishes. This has become a real source of discussion during COVID and the use of ventilators. What measures do you want to sustain your life? This is something that should not be left for your children or next of kin to debate on your behalf. It is of the utmost importance to be in agreement with your Health Care Proxy and plan your Medical Directive. Without the correct documents in place, even access to your medical information can be denied.
Many of you have heard me say my Grandmother's adage "We make plans and God laughs". How fitting for her granddaughter to be in the Planning Business! Let's at least be armed and financially empowered with knowledge and plan for the manageable pieces.
When we at RoZel meet with our clients – a part of our review discusses Will, POA, Medical Directives, and Beneficiaries. Not only do the documents need to be completed, but they may also need to be updated as your life and wishes may change. Our lives and the people we touch are too important to be left without direction. YOU are too important to not have your documents in order.
Give us a call and let's continue our conversation. Be well.