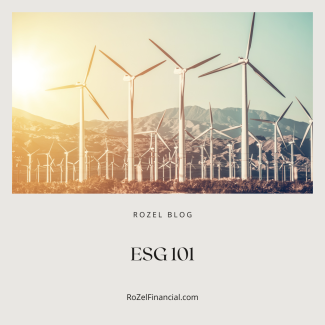 Thoughts Blowing in the Wind
I had much time to think while driving to New Mexico from New Jersey to see my daughter and witness her love of the Land of Enchantment firsthand. My thoughts greatly varied in scope and seriousness, such as; will my first RV/Motorhome adventure be a fond (or not so fond) memory, will my 100-pound Rottweiler enjoy the adventure, will my husband and I continue to adore each other as much as when we left for this 30-hour journey? What I did not expect to have entered my thought process was – when did all these wind turbines cover the landscape?
ESG 101
Fields of wind turbines made me reflect further on my desire to share knowledge about Environmental, Social, and Governance Investing (ESG). (Yes… this is why I consider my career my life's work, as finance permeates the many recesses of my mind!)
This piece is not to consider the pros and cons of farmland across the wind belt, as I am sure I could write a dissertation on just that, but rather to provide the first in a series of increasing awareness and understanding of ESG Investing.
There is considerable interest in what we invest in and our investments' impact on our values. ESG processes can help us evaluate and align our personal values with our investments. But how and in what aspects?
Common ESG Factors
One of the most straightforward ways that I have found to understand ESG is first to highlight some of the factors that encompass the terms themselves. Common examples of the elements that are included in ESG are broken down as follows:
| | | |
| --- | --- | --- |
| Environmental Factors | Social Factors | Governance Factors |
| Climate Change | Human Rights | Board Leadership |
| Natural Resources | Diversity & Discrimination | Segregation of Duties |
| Pollution & Waste | Animal Welfare | Board Compensation |
|   | Consumer Protection | Audit Risk |
ESG Ranking
Companies within the investments you may hold have a rating system, which ranks a particular company and often an entire mutual fund in terms of their Environmental, Social, and Governance impact. This rating may or may not align with your personal values; be empowered to explore investments that resonate with you.
It is essential to realize that when looking at ESG, there are many levels to discover. On a macroeconomic side, what you may think of as a fossil fuel company inherently impacts climate change in a way you may not believe acceptable. However, the industry is amid innovation that is not as simple as turning on a switch in a transition to renewable sources. In this example, is the fossil fuel company making strides in innovation? Are they contributing to the greater good sustainably and improving their 'ranking' in the "E" of ESG?
Another important related term is greenwashing, where certain investments may be marketed as ESG with little effort to incorporate any factors related to ESG above. It reminds me of the food industry, where the word 'natural' has been used to the point of relative meaningless jargon. I bring this term into your reading as it has excellent relevancy and should be considered if you are empowered to research on your own.
Is ESG Right For You?
Some of you reading this may prefer to keep your investments separate from the causes you feel are important through your volunteering, charitable contributions, and the like. Others may be intrigued and empowered to take a deeper dive. Please look for upcoming webinars and future blogs on the topic or give us a call to explore opportunities that may resonate with you.
Oh…. and I now understand why New Mexico is considered the Land of Enchantment (not only because my amazing daughter lives there), and I cannot wait to return. If I am so blessed, I will joyfully have my Rottweiler (Elly) and adorable husband along for the new memories!