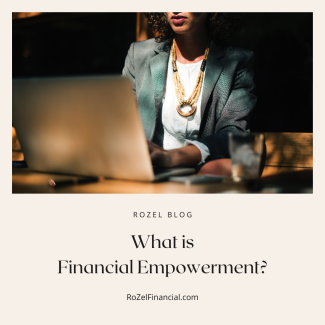 What is Financial Empowerment?
What is Financial Empowerment?
At RoZel Financial your success is our success. We care for your goals like our own, and we take the necessary steps to help get you there. That means we research thoroughly, care deeply, and don't choose our actions or words lightly. We believe in your financial empowerment because we believe in an empowered you, but what does that mean exactly? Empowerment is a powerful word, but more than that, it's an action. Financial empowerment is gaining balance and control of your financial structure, but how do we do that? The security of your structure, and the security of your future, are built according to the strength of its pillars. Before we build upon our pillars, let's look into what they signify for you.
Self-Determination
Everyone is different, and we celebrate your uniqueness! We work with you hands-on to determine what exactly your current needs and future goals are. This takes both introspection and open conversation. You do possess the potential to create the life that you want. Financial empowerment does not have one blueprint for everyone - because your design begins by determining what exactly you want to build.
Education
Knowledge is power! Your design starts with self-determination and is shaped by education. You cannot make the best choices for creating the life you want without understanding the meaning and impact of those choices. Building your secure structure also means building your knowledge, and with the proper financial education comes the confidence to make positive decisions and changes for your future.
Intent
Together we will build the foundation, strengthen your pillars, and secure your structure. We're not just setting goals - we're following through. We are setting our intentions on what you really want out of life and taking the necessary steps to get there. This means our intentions and our goals are not empty visions, let's work towards making them reality.
Power
We understand that you have the potential to truly create the life you want. With financial empowerment, we're not just settling for potential - we are realizing our power, actualizing our goals, and taking control of our lives. The sense of personal power and confidence in building your life is a key to emotional well-being not just our financial empowerment but in our lives.
Financial empowerment is about establishing what you want out of life, gaining education and confidence, establishing and taking the necessary steps, and actualizing your power. These pillars help to build your economic stability and balance your emotional well-being. All of these elements together can help bring you closer to financial empowerment - and an empowered you. So, let's start building together; give RoZel Financial a call to see how we can start building an empowered you.